DESIGN TO COST
"A designer knows he has achieved perfection not when there is nothing more to add, but when there is nothing left to take away"
Antoine DE SAINT-EXUPERY
The competitivity of companies starts from the design of the product
Companies generally look for competitiveness into cost reduction of labor and process.
They also think that their teams are already working every day to design at the best cost.
Actually, they widely underestimate the radical savings that a (Re)Design to Cost approach allows, wether on the existing products or new projects.
The need of simple and quick methods
The choices conditionning the competitivity of products are made very early in a project.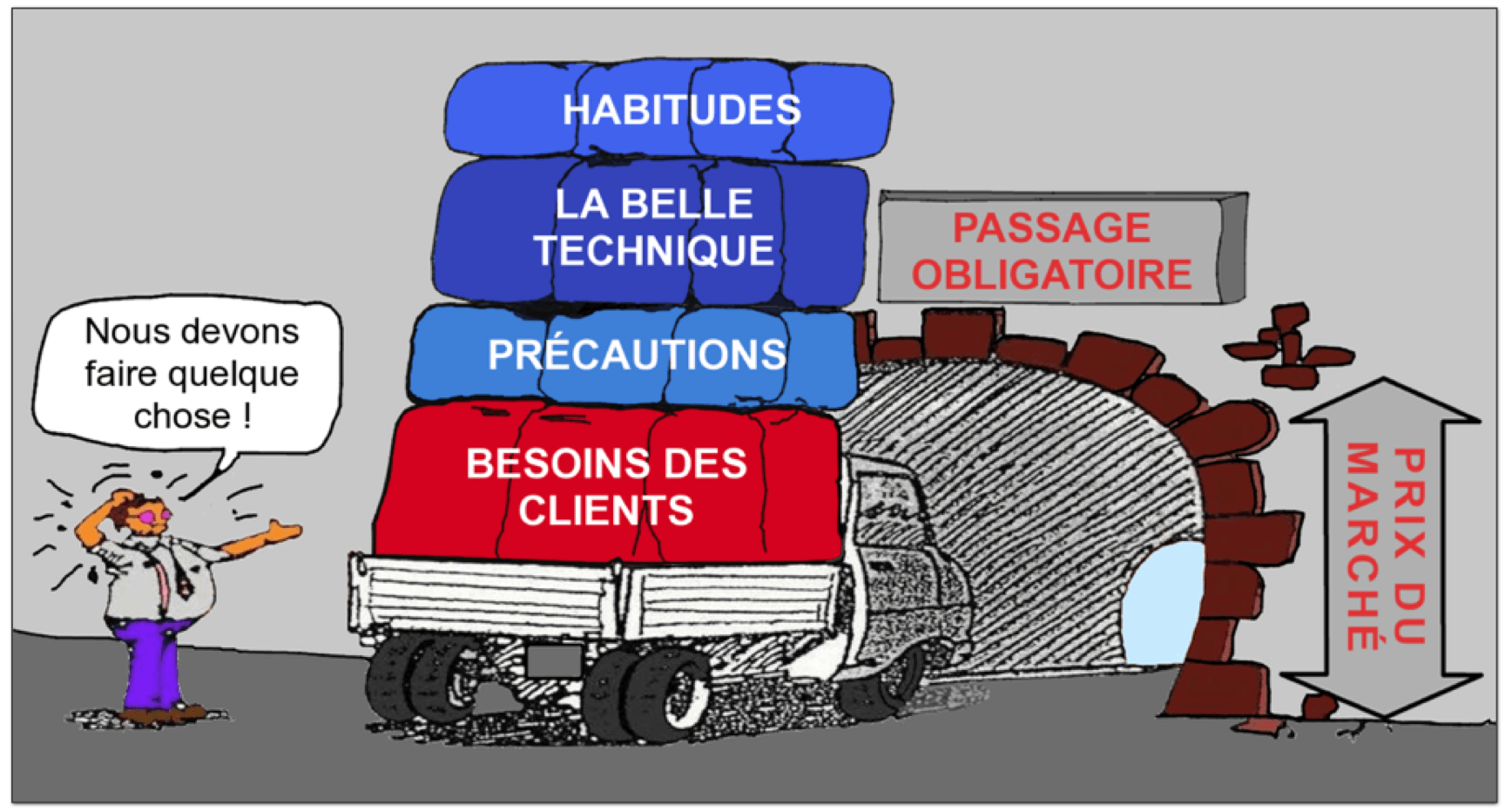 "Beautiful technique" is the besetting sin of designers and experts.
According to the drawing of Mr. Yves Dubreil,
Renault Innovation Director
Project manager of the Twingo
An efficient Design to cost relies on synthetical and visual tools to highlight the right levers and make the point of view converge toward the best choices :
Functional Analysis :
It synthesizes the real needs and customer value, highlighting the key requirements and their diversity.
Benchmarking :
It explores competitors' choices by detecting significant differences of cost and response to the needs.
Value Analysis :
It isolates the "Just Necessary" costs and major potentials of simplification and economy: product, process, sourcing …
Creativity :
It imagines the possible concepts and solutions to address the real needs without unnecessary costs.
Concepts Evaluation :
It higlights with pragmatism the best solutions choices to converge consensually to the most competitive offer.
The fields of the Design to Cost
The subjects can be products or services, B2B or consumer products, manufactured in mass, medium or small productions, or unitarily… It can also concern machines, industrial equipments, complete plants, …
Design to cost concerns the new projects with strong economic constraints
Redesign to cost aims to reduce the costs of existing products
The keys to success
An efficient and condensed approach
Endless approaches do no longer fit with nowadays projects requirements. They put off the operational department and disappoint with their results.
A short and lucid diagnosis since the beginning of a project, to address all the key issues of competitiveness :
What are the fundamental needs ?
Where are the useless costs ?
Which costs can be reached according to the degree of questionning ?
Which new concepts will make the difference with the existing products or competitor's products ?
The diagnosis offers a complete visibility on these key issues, thanks to a structured teamwork since the beginning of the project.
The Design to Cost of AROLYS
The modern and effective tools of Arolys radically simplify the procedures of Design to cost
Our credibility and expertise gain the support of the most skeptical participants.
Our dynamic and pragmatic animation wins the acceptance of the teams and impulses the change in the company.